Bluetooth Buyer's Guide
Whether your going on a family holiday or to a summer music festival, our camping checklist and video guide will help you decide what camping accessories you will need to make your trip a success.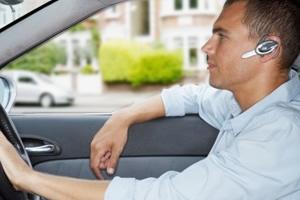 Why Go To Halfords
Fully Trained Staff
All our staff fully understand the features and benefits of all the Bluetooth technology solutions we sell. This means we can offer you the best advice anywhere in the UK and match your requirements exactly.
For no extra charge, our advisors will take as much time as you need to explain how our Bluetooth solutions work, answer all your questions and demonstrate them to you.
Online Backup?
Even if you bought online you can come back at any time, or give us a call if you need further information. There is no time limit.
Keeping You Up and Running
At Halfords we understand Bluetooth technology and how it can help keep you safe in the car. If you need advice about upgrading any of your features or you feel there may be a problem with your kit we have the staff who can help you.
Bluetooth Basics
What is Bluetooth?
Bluetooth is a technology, function or feature, rather than a product. It lets devices communicate by wireless (or you could call it radio) electromagnetic waves without the need for cables.
You could think of it as a cable replacement technology.
A variety of products can use Bluetooth technology, including mobile phones, hands-free kits, printers, keyboards, computer mice and more. Note that each product has to be enabled to make the technology work. We usually refer to these enabled products as Bluetooth devices.
You will need to buy a piece of kit specially for this purpose but we have a huge choice of top brand units and we guarantee the lowest price.
What Can I Do With It?
With regards to in-car technology Bluetooth is synonymous with hands-free calling. It is invaluable when driving because you can make calls using your voice only without handling your phone. At Halfords we will show you how to enjoy this safe, handsfree solution to making calls on the move.
You can also do so much more, like streaming music, sending pictures, business cards, videos and sound files from mobile phones to other phones and computers. You can automatically synchronise contact and calendar information among desktop, notebook and palmtop computers - without connecting cables. You could access a network or the Internet with a notebook computer by connecting wirelessly to a cellular phone.
How Does It Work?
A device has to be enabled in order to use the Bluetooth technology but then when one Bluetooth device detects another in its local area, they can be paired and then they can share data.
Some smaller devices, such as mobile phones, can only detect other Bluetooth-enabled devices within a few square metres. Other devices can scan for items up to 100 metres away.
There are a number of ways of using Bluetooth and we have a variety of solutions on offer. We have experts in store who understand in-car technology.
Where Did The Name Come From?
A Scandinavian company invented Bluetooth and they named it after the 10th Century Danish Viking King Harald Blatand (Bluetooth in English).
He united the fighting tribes of Denmark and Norway in the same way that Bluetooth technology unites different types of devices. The story also goes that, due to eating rather a lot of blueberries, he had more than one blue tooth to be proud of.
How Do I Get It To Work?
To send or receive files using Bluetooth on your phone, please follow these basic steps:
On your phone, go into the connections or settings area of the menu system according to the manufacturer's instructions, and turn Bluetooth on.
Tell your phone to find the device you want to send to. This means searching for the name of a particular mobile phone or hands-free phone, for example. Sometimes people give their phone a personalised name and sometimes it will just be the model name of the phone.
Wait for a connection, then you will be prompted for a pass code – enter the required four digit number. (Look in the device's instructions.)
Go to the other device and enter the same code (it may be pre-set). This means that the two devices are now paired. You can now transfer data between the two devices and save it on the receiving device.
Which Bluetooth Option To Choose?
Here is a summary of the options you can choose from:
Headset (Earpiece)
A portable solution, where you attach a Bluetooth headset (earpiece) to your ear and the phone sits nearby in your pocket or bag for example.
Visor Mount Speaker
A portable but discrete solution where you mount the speaker onto the car's sun visor and the hands-free phone sits somewhere else in the car.
Plug-in Speaker
This portable solution works in a similar way to the visor mounted speaker but instead plugs into the cigarette lighter.
Fully-Fitted Hands-free Kits
You speak into and receive calls via your sat nav or stereo unit. The controls are attached to the dashboard in an accessible but not highly visible place. The phone sits somewhere else in the car. The sat nav voice mutes the car stereo and relays the conversation through the car speakers.
Portable Solutions
Headsets (Earpieces)
Bluetooth headsets are a popular solution for hands-free users. The headset is actually an earpiece that fits on or in your ear. Headsets come in a range of designs, sizes and weights and offer many different features.
Speakers
You can have a speaker mounted onto either your car's sun visor or plugged into your car's cigarette lighter and they both work in a similar fashion. A speaker offers a convenient discreet hands-free solution. You can link up to 5 different phones with some speakers. There is a call menu but with some you can also use voice recognition to call people and then the call will transmit through the speaker on the unit.
About Your Phone
When you buy a portable Bluetooth headset or speaker you are not buying the phone, just the device. You just synchronise the Bluetooth device with your existing mobile and the mobile can sit in your pocket, or wherever, usually within a range of 10 metres.
Please note that we do not currently sell any packages that include a mobile handset.
Using Sat Nav On Your Phone
Did you know you can use your phone as a sat nav. Read more about Smartphone Sat Nav.
Fully Fitted Hands-free Kits
Hands-free kits
You can buy our hands-free car kits at Halfords.
Hands-free kits offer an effective and integrated Bluetooth solution. We fit the keypad button neatly to the dashboard so that the wires and electronic box are hidden. If the unit requires it, we attach the tiny microphone to the vehicle. Once installed, you just turn on the engine to start the unit working, with the phone call being transmitted through the car's speakers.
Some fully fitted car kits offer a colour LCD screen and keypad for viewing mobile phone information including phonebook, photos and incoming calls. You can also customise the colour interface with wallpapers.
Other features can include Bluetooth music streaming, which is a wireless technology which links a Bluetooth receiver such as a fitted kit to a portable Bluetooth transmitter such as a phone or MP3 player. The music recorded on the transmitter is then played through the fitted car kit and therefore through the car stereo.
Sat Nav Head Units
We also have sat navs that include a Bluetooth feature, which enables hands-free calling via the fitted unit. Your mobile phone connects with the sat nav unit, and you can control it using the screen on the sat nav, listening to the call through the car's speakers.
Stereo Head Units
We have stereo head units that have a built-in microphone allowing the head unit to function as a fitted car kit, connecting via Bluetooth to a mobile phone. In addition some units can enable Bluetooth music streaming from a portable music device.
Music Streaming
How Music Streaming Works
With some Bluetooth devices (kits and stereos) you can enjoy the benefits of creating a live stream of music in your car. When devices are paired you can seamlessly transfer the music experience between them. You can get your music tracks from your phone and stream them wirelessly by Bluetooth to a listening device such as headphones, speakers, stereo or a hands-free car kit.
Free Your Music
Imagine this scenario: you are listening to your music on your phone, and then you get into the car. If your phone and stereo are paired then when you switch on the car ignition, the music comes out of the car stereo speakers, and you are free to drive off, and the music continues to play.
With Bluetooth you can have eveything at your fingertips and you're ready to go.
Music Streaming Products
There are a number of streaming technologies emerging, for example from companies such as Parrot, iO Play, Sony, JVC and more. At Halfords you can ask our specialists to demonstrate all the latest technologies. Shop online.