Back to results
Bikes Buyers Guide + Video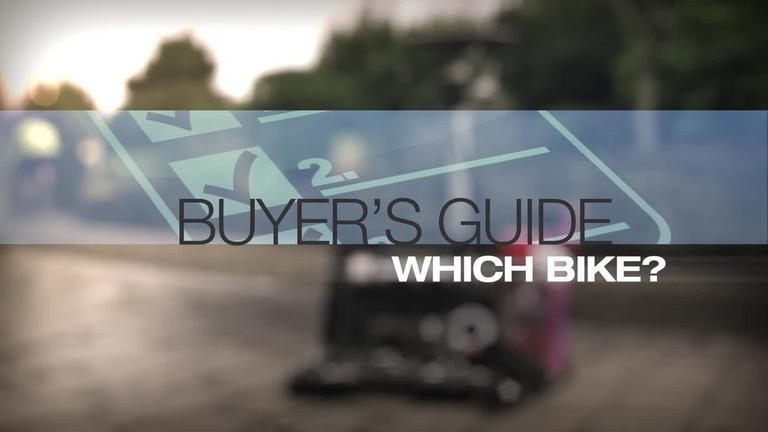 If you're thinking of getting a new bike but aren't sure where to start then take a look at our Bikes Buyers Guide for a helping hand.
Bikes Buyers Guide
With such a huge variety of bikes to choose from, it can be pretty tricky to pick one that's right for you. Hopefully this guide can make your quest for a bike a bit less daunting, and should help you decide which type of bicycle will suit your needs best.
So what types of bikes are there?
Mountain Bikes
Like to venture off the beaten path? Mountain bikes are designed for off-road terrain, and often feature shock absorption for bumpier rides. Take a look at our mountain bikes buyer's guide for more info.
Road Bikes
Speed glorious speed! Road bikes are built for fast-paced cycling on urban/tarmac surfaces, and have smooth tyres. If unleashing your inner speed demon sounds like your kind of thing, then read our road bikes buyer's guide.

Hybrid Bikes
Superb all-rounders, hybrid bikes combine road and mountain bike features for speed and versatility - the best of both worlds. Look at our hybrid bikes buyer's guide for more information.
Folding Bikes
Folding bikes are portable and perfect for commuting - they can be easily taken on the bus or train, and are great if space at home is a bit tight. Read our folding bikes buyer's guide to find out more.
Electric Bikes
Need a bit of a boost for those early morning commutes? Electric bikes have a pedal-assist motor to help you out. They're a green, affordable method of travel and are popular amongst commuters - check out the electric bikes buyer's guide for full details.
BMX Bikes
If stunts or tricks down the skate park are your kind of thing then a BMX bike is probably the right bike for you. Take a look at our BMX bikes buyer's guide to find out more.
Kids Bikes
Kids bikes are specially designed for the safety and comfort of little cyclists, and often feature colourful fun designs. Check out our Kids bikes buyer's guide to help you choose.
Fixie Bikes
Rapidly growing in popularity thanks to their cool design, fixie bikes are fixed gear bikes with no freewheel. Take a look at our fixie bikes guide for more info.
Choosing the Right Bike Size
Buying the right size bike is really important. To help you pick the right one, read our Bike Size Guide,which gives you guidance on choosing the right size bike for you.
Why get your bike from Halfords?
Click and collect your bike in-store and we can build it for you for free, so you can pick it up ready to ride. We also offer a free 6 week first service on all our bicycles.
Our bikes can be delivered boxed direct to your door if you buy online, and we can offer assembly advice or inspect any bike which you've bought from us for up to 12 weeks after delivery.
What's more, if you can't see exactly what you are looking for in-store or online, we can order from thousands of additional bikes and accessories - just ask in-store.
View all Bikes