Back to results
How to Find the Right Size Hybrid Bike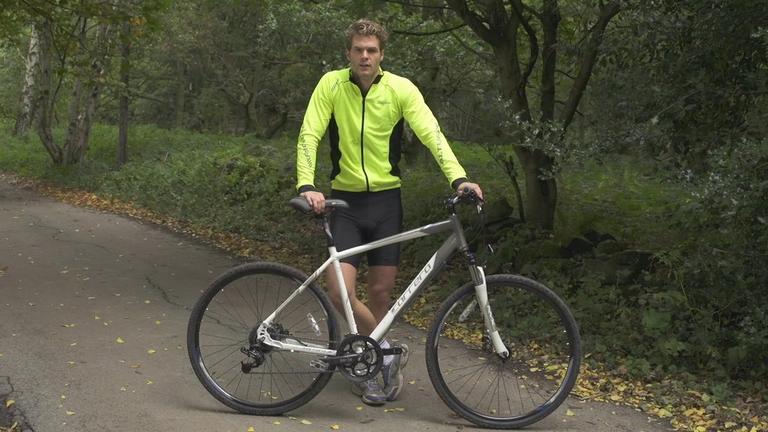 Hybrid bikes are great all-rounders, and can be used for all sorts of riding. Check out our guide to discover how to find the right size for you.
How to Find the Right Size Hybrid Bike
Hyrbid bikes are a really great way to get around, or just to get more active. Getting one that's the right size means that you'll be comfortable and in control out on the road, trail, or wherever your bike might take you!
What do the sizes mean?
Hybrid bikes come in lots of different sizes - either small, medium, large, and so on - or as a measurement in inches or centimetres. If this is the case, the measurement will tell you the length of the seat tube or top tube. Occasionally, on more unusually shaped bikes, this measurement will be more of a guideline to what sort of size the bike is rather than the length of any specific part.
Where to start
The simplest way of finding the rough size of bike that you might need is to measure your height and compare this to the tables that are included with each bike.
If you'd like to be a bit more certain, take your inseam measurement and compare this to the table as well. You can measure your inseam by placing a book between your legs as high as is comfortable and then getting someone to measure from the top of the book to the floor.
Still not sure?
If you're still not quite sure, or you're on the border between sizes, you should think about how long your reach is compared to your height. As bikes get bigger, they also get longer, meaning that the handlebars will be further away on a bigger bike. Someone with a longer reach might be more comfortable on a longer bike, and someone with a shorter reach might be better on a shorter bike.
To find out how your reach compares to your size, measure your ape index. Here's how to do it:
Use a tape measure to measure your height and your arm span.
Then, subtract your height from your arm span.
If you get a positive number then your reach is relatively long for your height. If you get a negative number then your reach is shorter.
So, for example, if your height is 5 foot 8" and your arm span is 5 foot 10". Subtracting 5 foot 10" from 5 foot 8" gives you 2. 2 is a positive number, so you might be better off on a bigger size if you're struggling to choose between two sizes.
How will I know if a bike is the right size?
Different styles of hybrid bikes will fit differently depending on what they're supposed to be used for. A bike made for exploring the trails will feel very different to a more sporty road hybrid. However, a bike that fits properly will let you:
Stand over the top tube with some clearance.
Pedal with a slight bend in your knee at the bottom of the stroke. You should be able to pedal efficiently and comfortably with the saddle at the correct height.
Reach the handlebars and brake levers comfortably.
Still not confident?
Remember, modern bikes are very adjustable. The saddle moves up and down, as well as forwards and backwards. The handlebars can be raised or lowered, and the stem can be swapped for one of a different length. If you fall between two sizes, it normally means that either one can be adjusted to your preferred fit. This is why you often see an overlap between the sizes we recommend.
And there you have it! We hope this guide has helped to give you an idea of how to tell what size bike you need. If you're looking to find the right size for a different kind of bike, head over to our guide to be pointed in the right direction.
Ready to decide? Head over to our range of hybrid bikes!
View all Hyrbid Bikes