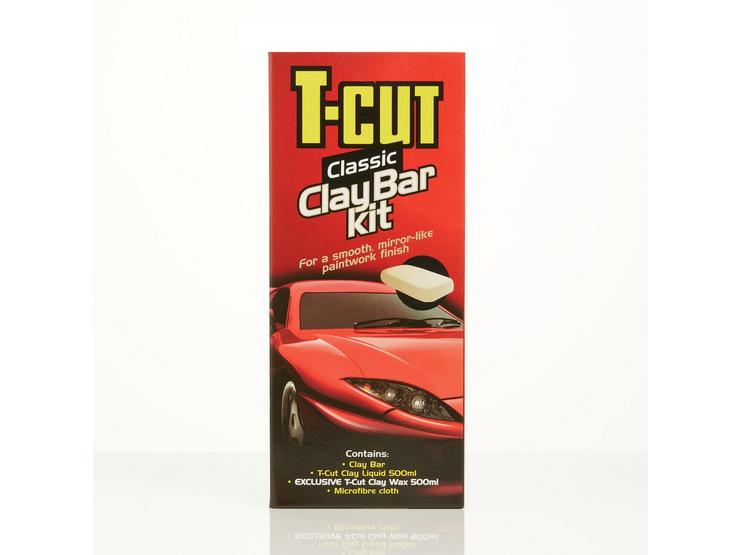 10 people are viewing now
5 purchases during last 48 hours
Cleaning Stage : Decontamination
Suitable For : Paintwork
T-Cut Clay Bar Kit
The T-Cut Clay Bar Kit contains all you require to achieve a smooth as glass, mirror-like finish on all paintwork. Claying removes stubborn contaminants that ordinary shampooing cannot remove. It helps to remove all surface contaminants and scratches, leaving a smooth surface ready for waxing.
This kit restores paintwork to its original lustre, removing contaminants that ordinary shampooing cannot remove, giving the vehicle a smooth as glass feel and deep shine.
Each kit comprises of:
Clay Bar: A non-abrasive, synthetic polymer that acts like a magnet to collect all the small contaminants on a vehicle's paintwork which aren't visible to the naked eye.
T-Cut Clay Liquid: A 500ml liquid that provides a safety barrier that enables the clay to aquaplane across the surface.
*Exclusive* T-Cut Wax: (500ml) It creates a super-shiny and smooth surface to all vehicle paint finishes, helping to protect the paintwork by inhibiting contaminants from sticking to, and damaging paintwork.
Microfibre Cloth: Buffs paintwork to a brilliant shine.
Features & Benefits:
T-Cut Clay Bar Kit is a special blend of all the lubricants and materials.
Helps maintain a super smooth surface
Leaves your car with a showroom shine
Application:
1) Wash your vehicle with a good quality car shampoo (such as Triplewax) and dry the car thoroughly with a chamois or microfibre cloth.
2) Work the clay bar by folding and kneading the bar until it softens up then flatten it out in your hand before using.
3) Spray the T-Cut Clay liquid evenly onto a small section of the bodywork (approximately one square foot). Then rub the clay bar in straight line motions over the lubricated section, using light hand pressure, until the surface becomes smooth and the clay bar stops dragging.
4) Shake the T-Cut Clay Wax bottle, pour onto a damp microfibre cloth, applying evenly to a section at a time and buff to a deep high gloss shine. Repeat application as required.
Additional Note:
Safe to use on all paintwork. You can use the T-Cut Clay bar kit on most smooth, hard surfaces, including glass (exterior) and alloy wheels. Do not use on clear plastic, such as headlight lenses as it may cause 'fogging'.