Shop Halfords exciting range of BMX bikes to support and develop your skills as a cyclist. BMX bikes offer more excitement than almost any other bike, and are specially designed for kids and adults who are passionate about jumps, tricks and stunts. Our BMX bikes are built to withstand the stress of the skate park and the street. Learn more about our range of BMX bikes below.
TEMPORARILY OUT OF STOCK
Back in stock after Christmas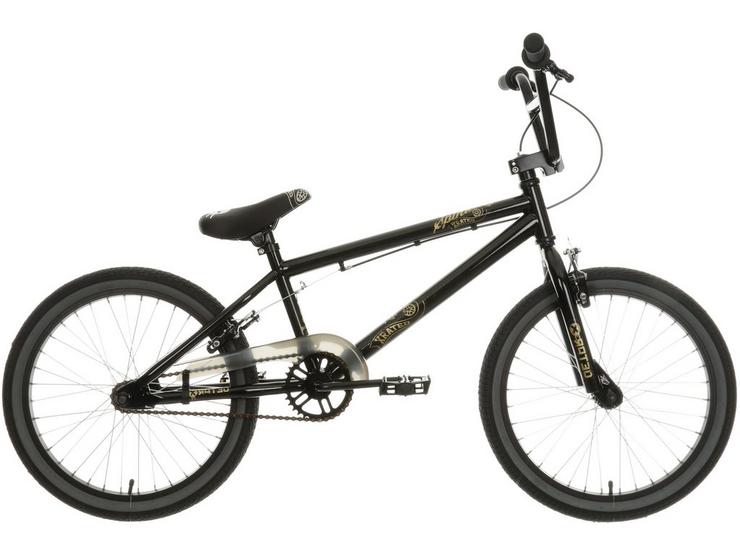 10 people are viewing now
5 purchases during last 48 hours
Age Range : 7 - 13+ years
Approximate Weight (KG) : 13.5kg
Tyres : Air Filled Rubber
X-Rated Spine BMX Bike - 20" Wheel
Age Range:

7 - 13+ years

(suitable for both Children and Adults)

Approximate Weight (KG): 13.5kg

Brake Type: Front and rear U-Brakes

Tyres: Wanda Air Filled Rubber

Frame: Strong steel frame

Additional Features:

33/14 gearing for quicker acceleration

Wanda colour wall tyres
BMX bikes are great fun for adventurous kids and tricksters who want to show off at the skate park, or just build up speed riding freestyle. The X-Rated Spine BMX bike is an excellent choice for kids aged 7+ who have mastered cycling and are looking to take trick riding to the next level with a BMX.
BMX bikes are great fun to ride and have a few features that mean they can handle ramps, kickers and rails with ease. The X-Rated Spine will certainly be able to keep up with the pace, with a sturdy steel frame, strong and lightweight alloy wheels and chunky Wanda tyres helping to soak up the hard landings and wipeouts that are part and parcel of BMX riding.

The X-Rated Spine BMX Bike also features front and back brakes for improved safety over other single-brake BMX's, plus there's a chain cover to help fingers and clothes from getting caught up. Looking good certainly isn't difficult on the X-Rated Spine BMX Bike either, with a slick black finish, coloured tyre walls and a textured print saddle. It's definitely a head turner!

If you're not quite sure where to start, check out our BMX Bikes Buyer's Guide for some helpful hints.
X-Rated Spine BMX Bike - 20" Wheel - Extra Info
Accessories
Your mini BMX rider needs to both look the part and stay safe, so grab some additional accessories to fully kit them out! Help them to stay fashionable with a pair of X-Rated Fingerless BMX Gloves and to stay safe with the ultra-cool Mongoose Skull Kids' Bike Helmet.

Free build on bikes (£

/€

250 and over) by our expert bike technicians. Learn more
Building a bike can be tough if you've never done it before, so save yourself a job by getting Halfords to build it for you! We'll put your child's X-Rated Spine BMX together quickly and safely, plus we'll get rid of all the packaging.

Bike Maintenance
It's likely that the X-Rated Spine BMX bike will get some serious usage, so make sure you keep your child's bike in top condition with. We'll give it a once over to check that everything is still in working order and that it's safe to ride, as well as making any required adjustments. Don't forget that you can always take the X-Rated Spine BMX Bike to your local Halfords store for as many free safety checks as you need.

Our Guarantee
We take the quality of our bikes seriously, which is why we offer a lifetime guarantee on the X-Rated Spine BMX Bike's frames and forks.
*Please see our T&C's here
Size Guide
Wheel Size
Age (Years)
Height (Inch)
Height (cm)
Balance
First Bike
2' 11" - 3' 5"
88 - 105
12"
3 - 5
3' 3" - 3' 8"
98 - 112
14"
4 - 6
3' 5" - 3' 10"
105 - 117
16" / 18"
5 - 7
3' 8" - 4' 2"
112 - 127
20"
6 - 9
3' 10" - 4' 6"
117 - 136
24"
8 - 11
4' 2" - 4' 9"
127 - 145
26"
9 - 12
4' 6" - 5' 0"
138 - 154
For Children 11+ please consider our range of adult bikes. Below gives an indication of the sizes you should look for. (For accurate sizing please view size guide on individual bikes).
Frame Size
Age (Years)
Height (Inch)
Height (cm)
14"
11 - 14
4' 10" - 5' 6"
148 - 168
14"/17"
12 - 15
5' 0" - 5' 8"
154 - 174
17"
13 - 16
5' 3" - 5' 10"
160 - 178