Roof Bars & Roof Boxes
Find what's right for your vehicle
Select your vehicle make and model and we'll only show you appropriate products for your vehicle
Select your vehicle details from the list and we'll only show you appropriate products
SELECT FROM THE LIST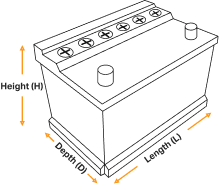 Check which battery is right for my car
Whether it's an expanding family, a long road trip or a new hobby, sometimes the carrying capacity of our cars needs a little boost. At Halfords, we've been helping drivers carry more for over 100 years. We have car roof boxes, roof bars and roof racks for every car and every budget.
A solid set of well-fitted car roof bars open up a whole world of carrying potential. If you're struggling to figure out what you need, use our roof bar tool. Simply enter your registration and you'll only see the roof bars and fitting kits for your vehicle. Order online or collect instore. We can even fit them for just €24.
Your roof bars are the perfect base for a car roof box. These high-capacity carriers lock securely to the bars and can add up to 500 extra litres of storage space. We've got Thule roof boxes and those from brands including Cruz and Exodus. Our Halfords roof boxes have been the choice of thousands of families and holidaymakers who love their style, space and cost!
We're sure you'll find everything you need online. When you do, you can enjoy free home delivery over €40 and qualify for interest-free credit if you spend over €99. If it's easier to pop to your local Halfords stores , then use our handy Click and Collect service.