Car Batteries
Find what's right for your vehicle
Select your vehicle details from the list and we'll only show you appropriate products
SELECT FROM THE LIST
Check which battery is right for my car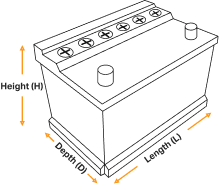 We make replacing your car battery simple. If you need some help, narrow down your search with our car battery finder. Enter a few details and it will only display batteries that will fit your car. Select the right battery at the right price and we can even fit it for you while you wait. We stock our own Halfords range or high-performance 12v car batteries alongside premium Yuasa car batteries. Every battery we sell comes with our 5-year car battery guarantee .
We also stock car battery chargers and charging accessories that will help to maintain the condition of your battery, keeping it working well for longer. If your car battery needs a bit of a bump, you'll find jump leads and jump starters that will have you back on the road in no time.
If starting your car is a challenge and you're worried about the condition of your battery, book a free battery check . A trained technician will assess the health of your car's battery, and advise on whether it's good to go or in need of replacement. There's no obligation to buy either.
You can find our entire range of car batteries and car battery charging accessories online. Spend over €40 and we'll deliver everything for free, with free returns if you're unhappy. Or, use our Click and Collect service to have your new car battery or charging accessories delivered to your Halfords store of choice. While you're there, you'll find everything you need for a life on the road. At Halfords, we're with you for the journey.