Air Con
Not just for keeping the inside of your car cool during the summer, your car's air conditioning helps to improve the air quality inside your vehicle. Manufacturers recommend carrying out an air conditioning servicing every two years to keep it working at optimum level, so book your car in for an air conditioning service with our experts today.
Find what's right for your vehicle
Select your vehicle make and model and we'll only show you appropriate products for your vehicle
Select your vehicle details from the list and we'll only show you appropriate products
SELECT FROM THE LIST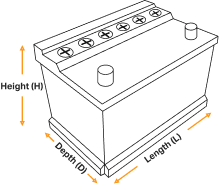 Check which battery is right for my car
Your car air conditioning system works hard to give you a comfortable ride. As well as keep the heat inside your vehicle bearable on the hottest of days it also filters out nasty bacteria, pollen and pollutants, keeping you cool and healthy. Car AC systems use refrigerant gas to keep temperatures down. Over time even the best systems will lose gas, making them less efficient. Your car should receive an air-con service every two years, keeping the system topped up and in tip-top condition. If you're worried about your aid conditioning or planning a long journey somewhere warm, then give yourself some peace of mind with a free air conditioning check form Halfords. Our experts will check the pressure in your system and look for leaks. If there's a problem, they'll let you know - and give you common-sense advice on how to get your system performing again. An aircon regas involves repressurising your air conditioning system. To ensure optimum performance, you need to replace the old and lost gas with fresh and new gas to the correct pressure. An aircon regas isn't a complicated or costly process, but you must use the right tools and products. The right air con gas depends on the model and age of your car. To make it simple for you, use Halfords' handy tool. Simply enter your registration number and some details about your car and you'll see our selection of products perfect for your vehicle. If you don't want the hassle of repairing your own air conditioning system, then we can do it for you - at a price that won't leave you sweating. In fact, an air conditioning regas can cost as little as €50, depending on your vehicle. Find
air con regas near you
at a local Halfords store, and we'll do the rest.