Replacement Wing Mirrors
Find what's right for your vehicle
Select your vehicle details from the list and we'll only show you appropriate products
SELECT FROM THE LIST
Check which battery is right for my car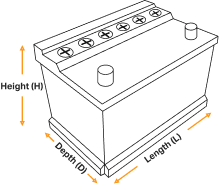 For balance It may be worth a short intro sentence?
Whether it was your fault or an accident, cracked wing mirror glass is a pretty common issue. The good news is that fixing it takes just a few minutes and is a simple job for anyone. Save yourself a few pounds and do-it-yourself with Halfords. The glass in each wing mirror is held in place by a strong adhesive. You'll need to safely remove as much of the old glass and adhesive as you can. Don't worry if a bit of glue is left, it won't cause a problem. Your replacement wing mirror glass has an adhesive pad on the back. Line up the new glass and gently place it onto the base. Once you're happy, apply a bit more pressure and you're done! Wing mirrors come in all shapes and sizes, so you'll need to choose the right one, or it might not fit properly. It's easy to narrow down the mirror for you with our wing mirror glass replacement tool. Cracked or missing glass in your wing mirror can cause you to fail your MOT. It's also unsafe too. Seeing what's beside you is as important as what's in front of you. Shop with us and you can have your new glass delivered to your home or local Halfords store in days. It's worth checking with
local Halfords store
, as we carry extensive stock and may have the part you need.