Leisure Batteries
Find what's right for your vehicle
Select your vehicle make and model and we'll only show you appropriate products for your vehicle
Select your vehicle details from the list and we'll only show you appropriate products
SELECT FROM THE LIST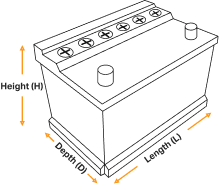 Check which battery is right for my car
Leisure batteries power those travel essentials, like fridges, phones and televisions. Used in boats, caravans and motorhomes, leisure batteries are built to consistently deliver 12v power - perfect for your home appliances outside of your home.
We offer a range of batteries that vary in terms of size and capacity. All of our batteries are graded according to the NCC Leisure Battery Verification Scheme which classifies them into three categories according to their capacity and intended purpose. Class A batteries are suitable for frequent off-grid usage and power-hungry appliances like kettles and TVs; Class B and C batteries are better for limited off-grid use.
The classification of every Halfords' battery is clearly marked giving you confidence that you're buying a battery that's fit for purpose and will provide you with the performance and the power you're paying for - not leaving you short changed and underpowered.
Your leisure battery needs to be maintained in good condition to give consistent performance. In fact, running a leisure battery down until it's empty could cause unnecessary and permanent damage. It's safe to use up to 50% of your leisure battery's charge, after which it's advisable to recharge it.
You can shop the complete range of Halfords' leisure batteries online or instore. Our Click and Collect service means you can reserve your battery and have it ready to collect at your local Halfords store. While you're there, why not check out our range of camping and leisure goods - including our impressive range of electric coolboxes - that can give you those creature comforts that make a journey special.