Road Angel Halo Pro 2K+ 1520p Front & 1080p Rear Dash Cam & 32GB Automotive Grade SD Card
ONLINE EXCLUSIVE
Black Friday Deal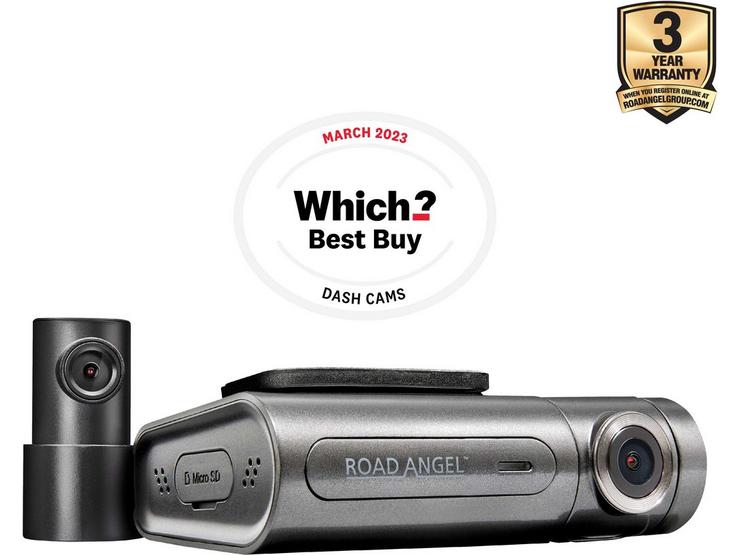 10 people are viewing now
5 purchases during last 48 hours
Road Angel Halo Pro 2K+ 1520p Front & 1080p Rear Dash Cam & 32GB Automotive Grade SD Card
€240.00
€155.40
save €84.60
BLACK FRIDAY DEAL ENDS TODAY
25% Off
Discount already applied.
Viewing Angle : 140°
Micro SD Included
Resolution : 1520p & 1080p
Road Angel Halo Go Full HD 1080p Dash Cam & 32GB Automotive Grade SD Card
1440P Front & 1080p Rear recording quality
No screen, No distractions
Parking Mode
140° Viewing Angle
Winter Mode
High Endurance Class 10 U3 SD Card
Parking Mode
Thanks to the Halo PRO's Parking Mode (hardwiring kit required) your vehicle is protected when you're away. Park up, turn your ignition off and the Halo Pro will automatically enter Parking Mode in time-lapse. If the G Sensor detects an event or movement the Halo PRO will resume normal recording.
G Sensor
In line with our True Parking mode, when hardwired the camera will automatically power up and record in the event the G Sensor is triggered by physical movement or damage to the vehicle! Keeping chances of theft and vandalism lower than ever!
High Quality Recording
With a new standard of quality, reliability and personalisation options, the Halo Pro packs a mighty punch in its compact body. Dash cameras have never looked so good or been so easy to operate. Unobtrusive while driving, its rotatable lens, and discrete wiring means you can capture remarkable full 2K HD footage in the front and 1080p at the rear. Connect to your mobile phone through built-in Wi-Fi, watch a real-time video preview on your smartphone and download it if an accident happens. Taking driving safety up to the next level, the sophisticated Halo Pro dual camera extends the capabilities of dash cameras beyond the expected.
Winter Mode
This unique feature allows for the Halo dash cam to produce just enough heat to help in cold weather conditions! This could be ice or even snow.
Built In GPS & Telematics
Thanks to the Halo Pro's built in GPS hardware, your journeys locations and speeds are all tracked and stored. Along with GPS information the Halo Pro also records extensive telematics data for every journey. This includes detailed acceleration, breaking and cornering information along every part of your journey shown on a map for easy playback and reference.
No Screen, No Distractions
The HALO is focused on 2 things, safety and giving you great value! There's actually no need for a screen, so why add one? To distract you? No thanks! Our super compact dash cameras give a minimal footprint and take up next to no space when installed in the vehicle, causing no dangerous glare or distraction to the driver! It really is a Halo! Please only use the HALO app when safely parked up.
Halo App, edit & share
In the event of an accident or if you just want to keep a recording you can select the exact time you want to download, trim/edit the clip, and save to your phone. You can even export the saved footage to social media from within the HALO App.
Variable Volt Battery Protection
There's nothing to worry about with a Halo watching over you & your car, not even your car battery! The camera/wiring kit has a variable voltage cut-off meaning the battery will never run flat, when installed correctly.
High Endurance Class 10 U3 SD Card
Fundamentally, a camera of any sort can only ever be as good as the quality of the files and memory they are being stored on. A lower price SD card has a lower specification and in turn offers less reliability of the features. Our high-quality SD Cards take care of the worry of randomised or sudden loss of power which can often corrupt or damage memory.
Our SD Card makes the key difference you can rely on! Another important thing to consider is the UHS rating. This means Ultra High Speed and is represented by a number, usually U1 or U3, U3 is rated at 30MB/s per second and is more suitable for high-res continuous video footage. As your dash camera is consistently capturing fast-moving high-resolution video, the SD card speed is VERY important for reliability. The Halo Comes with the best SD card to give you total peace of mind!
3 Year UK warranty* - Boasting a full UK warranty and repair service from the heart of Nottingham! There are no worries should you ever have an issue with your Halo – we've got you covered, always!
UK Support Team - In the event you are having any trouble or confusion in using or setting up your Halo, drop us a quick call via our dedicated call centre on 0330 320 3030 – open from 9am – 5:30pm 5 days a week!