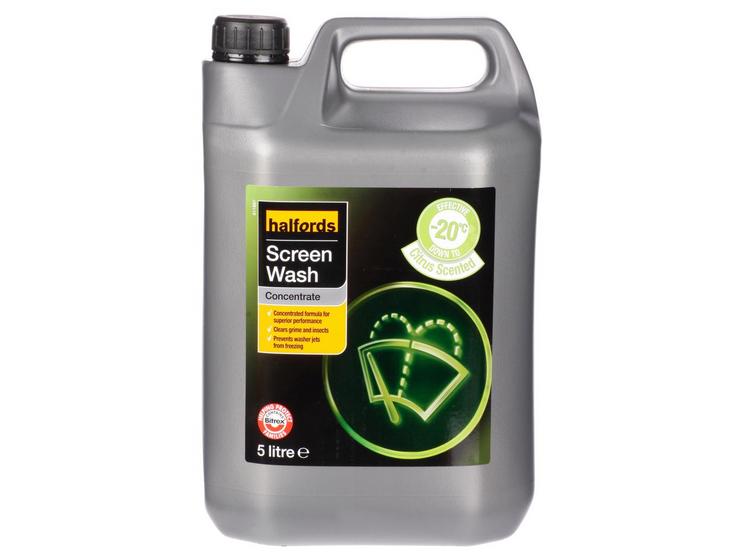 10 people are viewing now
5 purchases during last 48 hours

"We now put Bitrex in our screenwash and antifreeze products, to help protect your family. Officially the world's most bitter substance, just a tiny amount of Bitrex makes our products extremely unpalatable - and therefore safer - by helping prevent your children and pets from accidentally swallowing something they shouldn't."

Halfords -20 Concentrated Screenwash 5L - Citrus
The Halfords -20 Concentrated Screenwash 5L offers exceptional performance if used neat all year round. It keeps your vehicle's screen free from bugs, dirt and road grime.
The concentrated formula features detergents and water softeners for breakdown of grease and grime, even when it is diluted up to a 5:1 ratio with water. Halfords also sell a -20 Ready Mixed Screen Wash, which is a convenient formulation that can be poured straight into your washer bottle.
Features & Benefits:
Concentrated formula for superior cleaning performance
Keeps washer jets free from ice
Helps prevent screen refreezing
Fresh citrus fragrance
Contains Bitrex
5 Litre bottle
Product Usage Instructions:
Suggested Dilution:
100% Concentrate with 0% Water: Effective down to -20⁰C
50% Concentrate with 50% Water: Effective down to -7.5⁰C
20% Concentrate with 80% Water: Effective down to -2.5⁰C