Electric Scooter Buyer's Guide
If you're already a scooter owner and are looking for a fun new way of scooting, or you just like the idea of being propelled along by a battery and motor without having to do the hard work, then an electric scooter will definitely be up your street. Here's our guide to choosing the right one.
What is an electric scooter?
Simply put, electric scooters are normal scooters with a small motor attached to either one wheel or in some cases both wheels. The motor(s) are powered by a battery, with the speed controlled by a throttle on the handlebars. The battery is charged via the mains.
How far can I travel on an electric scooter?
This all depends on the capacity of the battery and where you're scooting. Smaller batteries will run out faster and if you're scooting uphill or are a 'heavier rider', then the battery will discharge faster! Only using the throttle in short bursts and most scooters have different speed modes. Selecting a slower mode will allow you to travel further on a single charge.
How fast are electric scooters?
Again, this depends on how much power the motor and battery can put out. Most electric scooters reach around 15mph, but some can go as fast as 30mph. In any case, it's always worth checking the top speed, especially if children are going to be riding, as faster speeds require more attention and protection.
The most important electric scooter features
Choosing an e-scooter can be as easy or complicated as you'd like to make it. Here are the key factors that should come into play when you are choosing the right e-scooter for you:
Price
Thanks to the additional bits of tech on electric scooters, you can expect to pay a little extra for an electric scooter over a conventional push scooter. However, you can still pick up a decent e-scooter without having to break the bank. If you're after an all-out off-roader with high top speed, long battery life and extra feature like brakes and suspension, you'll be paying more than you would for a more basic model that just focuses on a battery and motor that offers plenty of fun at a sensible price.
Range
If you plan on scooting for hours on end without having to stop for a recharge, then battery capacity should play a big role in your buying decision. Remember, you could pay a premium for a battery that will last way longer, plus you may be able to go further on a lower-capacity battery by reigning in the amount you use the throttle and relying on leg power for more of the time.
Top Speed / motor power
If your main focus is to go as fast as possible and just enjoy the adrenaline rush, then go for an electric scooter with a powerful motor and maximum mph for your pounds. Some electric scooters can reach speeds of up to 30mph, but, be aware that faster speeds require more concentration and it may be sensible to invest in more protective equipment than just a helmet.
Weight
All scooters come with a maximum recommended weight, so don't ignore this if you're buying for yourself or an older child. The limits are there for a reason and regularly exceeding them can damage components or even the scooter itself. Make sure you weigh the rider before deciding on your next e-scooter!
Suspension, brakes and tyres
Just like normal scooters, choosing an e-scooter should involve checking over the specs. A fun, low-speed scooter will likely require less high-spec kit than an off-road electric scooter with chunky tyres and full suspension, so have a think about where the scooter is going to be ridden – decent brakes could be the difference between stopping in time, especially if you're going for a higher-powered motor.
Shop Electric Scooters
Lighting and safety equipment
Just like bikes and normal scooters, staying safe while riding is critical. Halfords always recommends fitting lights to anything that can be ridden, so grab some scooter lights and maybe even some reflective decals.
A helmet is also an absolute must, especially if the scooter you are looking at can reach higher speeds. Normal bike helmets are better than nothing, but you can buy scooter-specific helmets in various designs, handy for picky teenagers who factor in style as well as safety.
Shop Electric Scooter Accessories
The best E-scooters at Halfords
Xiaomi Mi M365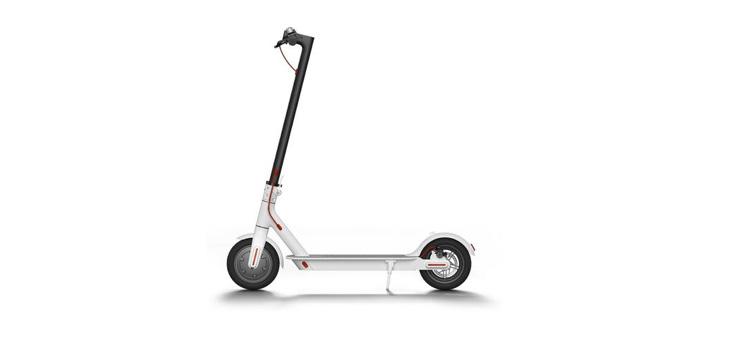 The award-winning Xiaomi Mi M365 Electric Scooter is the UK's best selling electric scooter. With minimal yet modern aesthetics, this portable and folding electric scooter has won numerous awards for its design. Featuring a double braking system, air-filled rubber tyres, and a durable, lightweight aluminium frame, the M65 can accelerate up to 15.5mph for as far as 18.6 miles on a single charge!
Xiaomi M365 Pro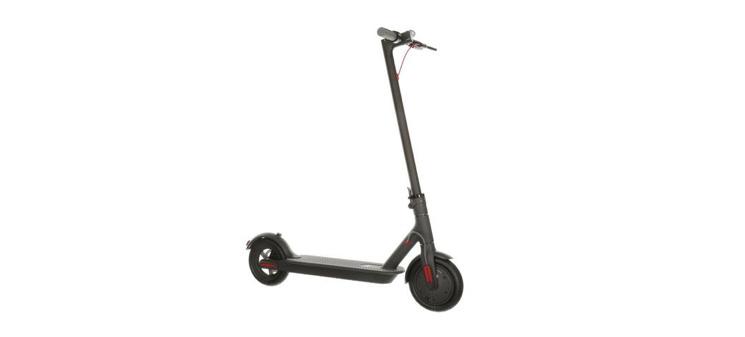 Featuring an upgraded battery and more powerful motor than the Mi M365, the Xiaomi PRO M365 can travel up to 28 miles on a single charge! The sleek and elegant Xiaomi PRO M365 Electric Scooter has a minimalist design made out of aircraft-grade aluminium alloy, and weighs just 14.2kg. Taking only 3 seconds to fold and go, this scooter is easy to transport, and can comfortably fit in the boot of a car.
How to get started with Xiaomi
E-scooter maintenance
Just like normal scooters, electric scooters will need some TLC – especially when it comes to the battery and motor.
Keeping the scooter itself in good condition will help it to last longer, so give it a good clean regularly and use light machine oil on the wheels and moving parts if it folds. Take care to remove the battery before getting water anywhere near the scooter and always read the instruction manual.
Remember that most of the 'heavy usage' areas on scooters, like the kickplate and handlebars grips, can be replaced, so stock up on replacement parts if yours start to look a little tired.
Most importantly, it's important to look after the electronics on your e-scooter. The battery specifically may need some extra care to ensure a long life.

Read the instruction manual before using the scooter, as you may need to give the battery a full charge before connecting it. Try to charge and store your battery indoors and at room temperature where possible, as cold or humid areas can have an adverse effect on battery performance.
Remember to disconnect the battery if you're going to be storing the scooter for long periods of time, as letting the battery drain while connected can cause damage, especially over months or years.
Our most important safety tip is never to dismantle the motor or battery casing our housing. All e-scooters that we sell are designed to require no maintenance to the enclosed electrical units, so if you have a problem, contact your manufacturer or local Halfords if the product is under warranty or under a service plan.
E-scooter servicing at Halfords
To keep your e-scooter in top condition, why not leave the hard work to Halfords? Our in-store e-scooter experts have the tools and knowledge to repair and maintain all types of e-scooter, so you can focus on whizzing along safe in the knowledge that your scooter is performing at its best. Check out our e-scooter service plans to find out more.